"Developing a Cold Chain Infrastructure for the Somali Fishing Industry," a new partnership at UN75 Global Governance Forum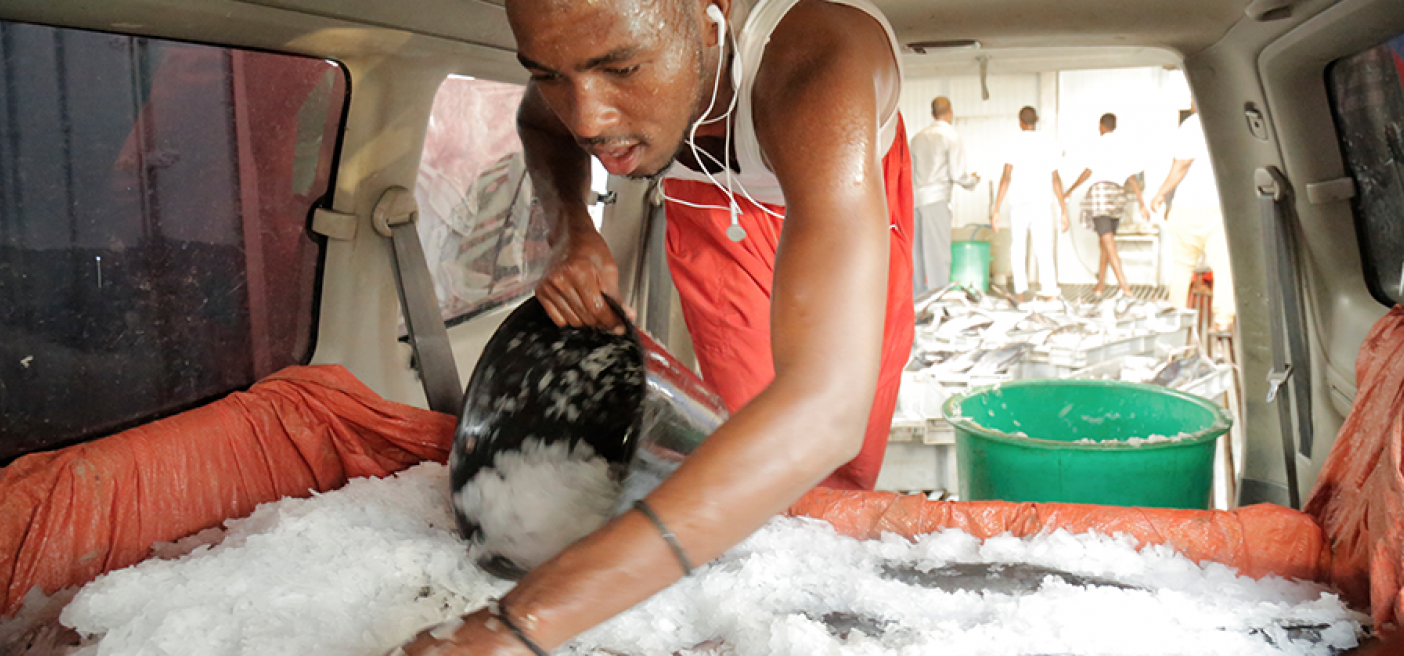 At the UN75 Global Governance Forum on September 17th, Secure Fisheries will announce the partnership "Developing a Cold Chain Infrastructure for the Somali Fishing Industry," which brings together the private sector, government, and civil society to address the challenge of low profit margins, poor seafood quality, and limited market size in Somali fisheries.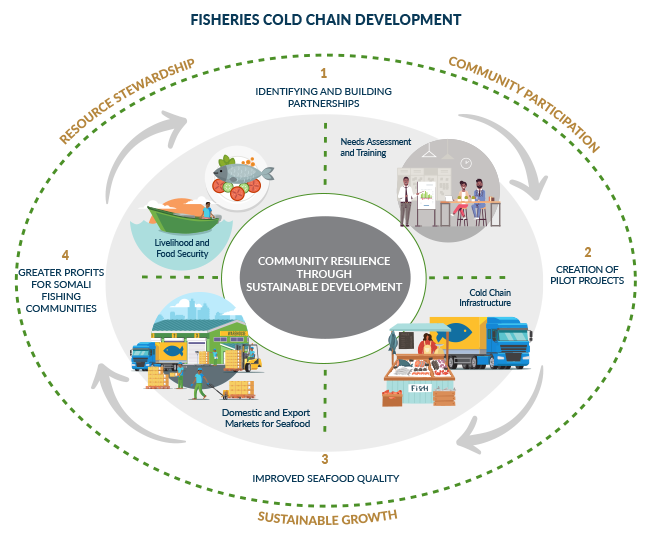 This diagram has been designed using resources from Freepik.com
The Somali marine environment has the potential to produce hundreds of millions of dollars of seafood each year while providing high quality protein to a country facing famine and drought. One Earth Future, the Somalia Seafood Exporters Association, the Global Cold Chain Alliance, and the Italian Agency for Development Cooperation have teamed up with the Ministries of Fisheries in Somalia and the state of Puntland to develop a pilot project combining technical training, best practices, infrastructure such as solar-powered cold storage, and data collection in Somali fishing communities.
Our aim is to provide efficient, low-cost technology and skills to fishing communities and seafood companies to develop the domestic market for seafood while improving processing quality to open up export markets. By reducing spoilage and increasing profits, this project promotes coastal livelihoods and sustainable use of the marine environment, pillars of SDG 14. The Cold Catch project advances the global call contained in the UN75 Declaration by strengthening the resilience of Somali coastal communities as they prepare for the unexpected effects of climate change.
READ THE FULL CONCEPT NOTE FOR THE "DEVELOPING A COLD CHAIN INFRASTRUCTURE FOR THE SOMALI FISHING INDUSTRY" PARTNERSHIP
---
THE UN75 GLOBAL GOVERNANCE FORUM
One Earth Future Foundation and a group of other institutions is hosting the UN75 Global Governance Forum, designed to facilitate discussion on issues of critical importance such as inclusive rural development, peace building, human rights, climate change and gender equality. The Forum will provide a virtual meeting space to bring together organizations from around the world to develop innovative proposals to address these issues. It is gathering diverse entities from civil society, the private sector, philanthropic organizations, academia, and other institutions to join the global conversation initiated by the United Nations in the context of its 75th anniversary. The Forum's goal is to forge the design and implementation of strategies to address the increasingly complex problems arising today and in the coming years.
SCALABLE PARTNERSHIPS FOR THE FUTURE WE WANT
The UN75 Global Governance Forum is organized around four thematic pillars: Peace and Security, Sustainable Development, Human Rights and Humanitarian Action, and Climate Governance. Across them, plenary presentations and breakout groups will catalyze new forms of multi-stakeholder partnerships to develop proposals, scalable and replicable, that will contribute to fulfilling the official commitments of the UN75 Intergovernmental Declaration.
Find out more about the UN75 Global Governance Forum and register here to participate in its different meetings.