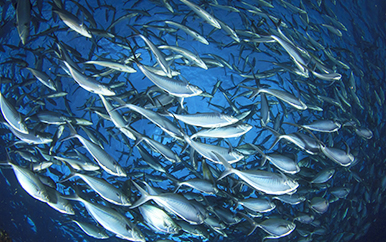 The Caught Red-Handed project was inspired by requests by Indian Ocean countries for low-cost solutions to combat illegal fishing. In partnership with the United Nations Office on Drugs and Crime and the U.S. Naval Forces Africa, Secure Fisheries hosted a series of in-country workshops throughout 2018, working with national maritime agencies including navies, coast guards, and law enforcement to systematically increase the value and sophistication of human intelligence in the vessel-monitoring datasets used to combat illegal fishing. Ten workshops were held in the Maldives, Sri Lanka, Kenya, Tanzania, Mozambique, Comoros, Madagascar, Mauritius, the Seychelles, and Somalia. A final wrap-up workshop was held in Seychelles in April 2019 to establish best practices for prosecuting fisheries crimes. Workshops focused on expanding maritime domain awareness, sharing information, and enhancing enforcement of fisheries laws while featuring regional efforts such as the FISH-i Africa Task Force, the Regional Information Coordination Centers in Mombasa and Tanzania, and the Regional Maritime Information Fusion Centers in Madagascar and Seychelles.
The 10 in-country workshops covered:
An introduction to transnational fisheries crime in East Africa

An overview of regional and state efforts to combat illegal fishing

Intelligence collection for fisheries crime prosecutions

An overview of the FISH-i Africa Task Force and Regional Information Coordination Centers

Best practices in sharing intelligence and the evidence chain of custody

Creation of standard operating procedures for gathering human intelligence about fishing vessels
Workshop Findings
Challenges
The workshops identified several important gaps in combating illegal fishing in the Indian Ocean.
Misalignment of mandates and resources: Agencies with mandates related to illegal fishing often lack vessels able to effectively patrol their waters, while agencies with more resources, like navies, are not mandated to prioritize illegal fishing.

Low maritime domain awareness: Many Western Indian Ocean countries have long coastlines and lack the resources, human capacity, and port control to monitor activities within their exclusive economic zones.

Lack of interagency coordination: While illegal fishing impacts many maritime agencies, these agencies often operate in silos rather than sharing information and coordinating efforts.
Recommendations
The following recommendations were generated by Caught Red-Handed participants:
Create a coordination task force between maritime agencies for information sharing and coordination to fight illegal fishing.

Strengthen mandates against illegal fishing for relevant maritime agencies, recognizing the role that all maritime agencies have to play in combating illegal fishing and empowering them to act on and prioritize illegal fishing.

Develop policies for sharing information on illegal fishing with external partners, through trusted networks and secure platforms.
Products

Caught Red-Handed was selected as a pilot project of the U.S. Department of State's Safe Ocean Network and is supported by the Bureau of International Narcotics and Law Enforcement Affairs.